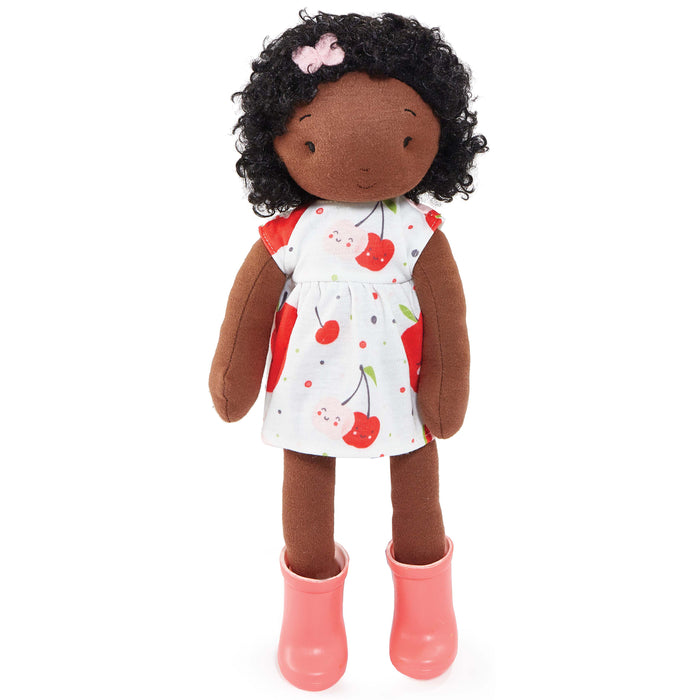 Global Sisters Dolls are a collection of diverse dolls made to celebrate individuality. Wherever you're from under the sun, Global Sisters welcomes everyone! A  playable, lovable, and dressable collection of sweet soft knit dolls from all over the world.  
Bluebell
 is a 
mocha brown doll with darling short curly black hair. She is dressed in

 a 
blue and orange floral print dress with

 
matching blue vinyl boots, the perfect accessory for play!
The perfect choice for baby's first doll, as she is heirloom quality, yet soft and love-able, with details that are sure to be appreciated throughout the years. 
FEATURES AND DIMENSIONS:
Standing Height: 13" (33cm)

Sitting Height: 9" (23cm)

Width - Arms Outstretched: 11" (28cm)

Comes in a delightfully illustrated box with a keepsake booklet to "Write Your Story" with spots to list who the doll belongs to, their favourite colour, where they are from, where their parents are from, how old they are, their best friend, favourite holiday, favourite food, favourite animal, and what they want to be when they grow up. 

Embroidered facial features and sweet pinked cheeks.
ALL ITEMS ARE NOW FREE POST WITHIN THE UK